Mission Statement
dwd – deep wreck diving was founded on October 1, 2005 by Helmuth Biechl. Based on 40 years diving experience and more than 35 years diving education & training according to the standards and guidelines of ANDI, PSAI, CMAS, SSI and PADI, we wanted to create something very special within the diving community. Our objective was to establish a blend of technical diving training facility, expedition to and exploration of deep wrecks as well as deep wall diving in our home waters. These three aspects are the essence of dwd – deep wreck diving.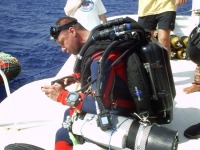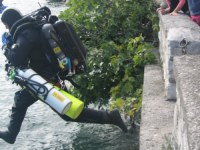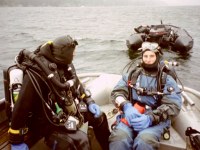 We train primarily according to the ANDI (American Nitrox Divers International) standard, one of the oldest and widely recognized organizations for technical diving. While our main focus is in the area of technical dive training and education, we also engage in recreational diving education; predominantly for those trainees who exhibit more ambitious goals and would like to submit themselves to more intensive dive training.

Our objective for the technical diving area is to become a market leader within the rebreather segment. We train on the following rebreathers: Inspiration, Evolution, Megalodon, Pathfinder, COPIS and Classic KISS. It is our business to follow all new developments in this segment and to evaluate its practicality and implementation. Therefore dwd is a competent partner in almost all areas of technical diving. Almost all training is offered up to Instructor-Level. The financial independence of dwd allows us to conduct our training at the highest possible level, without compromising price dumping and time compressed education.

Expedition and exploration diving with the primary goal of diving deep and often virgin wrecks in all parts of the world is usually performed by an international team. All participants can draw from long experience in Deep Wreck Diving.

As a matter of principle, we are not a "closed community"; however, to Deep Wreck Expeditions we usually invite only divers, who have been able to demonstrate their diving competence and the necessary ability to work within a team over a longer period of time. It is definitely possible though – with adequate attitude and skills – to participate in one or the other project.

In terms of philosophy, e.g. concerning gear configuration, we do not follow a specific conviction. Individual configurations – up to a reasonable degree - are more the rule than the exception in our teams. Everyone shall know the different alternatives, with its specific advantages and disadvantages, and determine his own style according to his individual safety philosophy. We also act on this maxim during our diving education. We strongly believe that there is usually more than one solution to a given problem.

Last but not least, we would like to emphasis that an equitable, friendly and tolerant "with each other" is at the heart of a flexible team and that we aim to get this value across during our diving classes as well.